Welcome to the FarmVille: Tropic EscapeEdit
Welcome island enthusiasts, to the Farmville: Tropic Escape Fandom Wikia site!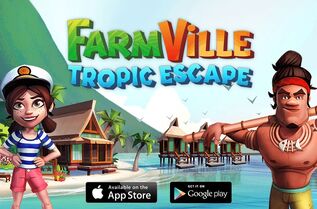 "Escape to an island getaway filled with adventure, mystery, and fun new mini games in this colorful free-to-play game from the makers of FarmVille, the number one farming franchise!
Build your very own beachside inn complete with island workshops, tropical crops, and exotic animals. Farm island fruits like pineapples, coconuts, and mangos to delight your guests. Craft delicious recipes and rare goods like piña coladas, grilled fish, and flower leis." - Google Play
Come along and join Kate and your Island Guides Domingo, Chloe, Maya, Luis, Zack, Lola and Ting (Odney and Aayla available for additional in app purchase) and have a blast on your own personal little island!
Head Menu replacement (lack of admin)Edit
Useful Links
Edit
If you've yet to try this wonderful game from the creators of Farmville: Country Escape, you can find and download it here:
FarmVille Tropic Escape on the App Store (for iOS)
Farmville Tropic Escape on Google Play (for Android)
Official Forum: Farmville: Tropic Escape Player Forums